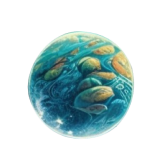 The internet was not originally built with the autonomy of its users in mind.
Its roots trace back to the ARPANET, a project by the U.S. DoD, created primarily as a tool for swift communication and knowledge sharing among universities and research institutions. As the internet evolved from its academic origins into a commercialized platform, user autonomy was often overlooked, leaving significant control in the hands of ISPs and major tech companies. Web3, i.e. the union of cryptocurrency with the internet, promised a more decentralized and equitable digital landscape that avoids the monopolistic and privacy-invasive practices of Web 2.0.
Yet, incessant legal obstacles, multi-million dollar hacks and the threat of pervasive surveillance have instilled skepticism about Web3's vision of a better internet. While we could propose a Web4, Web5, or Web6 to counter these issues, we believe the root of our troubles may lie in the foundational infrastructure of the Web itself. Hence, we propose a new path to address the deeper problems of the Web as whole. Our aim is not just to rethink network technologies, but to venture into unexplored territory: the Post-Web.